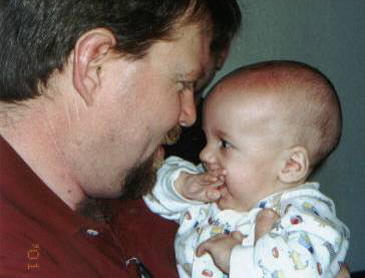 Click on any date to read the journal entry for that day.

September 4, 2001
Well, Gage is doing great. He had his first pediatrician appointment this past Friday. He weighed 6 lbs., 4 oz and was 18 3/4 inches long. He is satting great with his oxygen, although still breathing a little fast. He goes to the pulmonologist (lung doctor) tomorrow morning, so we'll see what Dr. Panesar has to say as far as that goes. We're planning on our first family outing this weekend. We will be going to stay at our lake house for the weekend...oxygen, monitors and all! We'll be leaving after Gage's pediatrician appointment Friday morning and staying through Monday. I'm so excited to get out. Plus, Gage will get to see his "Boo Daddy" and "Boo Mama" who will also be there! We'll be inside most of the time, but maybe I can convince Boo Mama to watch him a minute so I can enjoy the sun a little bit! I'm sure she'll be more than happy to volunteer! I've added some new pics on a new "Home Photos" page, where all new photos will be added from here on out. All updates will now be added to this page, as the old one is now for viewing only. Time for a fresh start!



Love and Hugs,


Brooke

September 20, 2001
Hello, all!  Sorry it's taken me so long to update again. You wouldn't believe how much time I DON'T have between appointments with the pediatrician, the ophthalmologist, and the pulmonologist!! Gage is doing good. He's gaining weight a little slowly though. Last Friday (the 14th) he weighed 7 lbs. even. At his appointment today he weighed only 7 lbs., 1 oz. To give you an idea of what's good, he should be gaining about an ounce a DAY! So, he should've weighed about 7 lbs., 6 oz. We have to add a small amount of corn oil to one bottle a day to help with his weight gain. Also, I had to stop pumping breast milk for Gage. There just wasn't any left to pump!! So, now he will get one breast milk bottle a day from what we have stashed in the freezer (which isn't much!) and the rest will be Enfamil Nutramigen formula.  He's been a great baby...he's happy, and he sleeps really well. Now if we can just get some more meat on his bones! Also, we had an appointment with his eye doctor on Monday, and he said that Gage's ROP has regressed!!! YAY!! So, he will be turning Gage over to a regular pediatric ophthalmologist. I was so glad to hear that! That's all the news we have for now! I'm trying to finish a roll of film, so I can post some more pictures!

Love and Hugs,


Brooke

October 16, 2001
Sorry, it's taken me so long to update..yet again! Gage keeps me pretty busy these days. He's doing great though! He is still on oxygen, but I honestly think he would do fine without it! He got his synagis shot to help protect him from RSV yesterday. His last weight was 8lbs., 7 oz. He still takes corn oil in his bottle, and seems to be gaining weight much more quickly now. Gage still looks like a newborn, but thinks he's a big boy! He's rolling over, smiling and making faces...such a cutie...and so funny to see such a small baby doing such big things! I've added new pictures to his "Home Photos" page and I've also added a new page for his studio portraits. Hope you enjoy them. He's getting big!



Love and Hugs,


Brooke

November 6, 2001
Gage went  to the pediatrician yesterday. He weighed 9 lbs., 12 oz. She said he is doing great developmentally, and finally starting to gain some much needed weight! Tomorrow, he will do another "sleep study" to determine if he is ready to be taken off of his oxygen. So keep him in your prayers tonight, and hopefully we can get rid of all this stuff! Also, we saw the retina doctor a couple of weeks ago, and he will be referring Gage to a pediatric ophthalmologist. The ROP has resolved, but now Gage will probably need glasses, because such severe ROP tends to make the baby extremely nearsighted. We go to the new doctor this month to see if Gage does indeed need glasses. I've been telling my family that he will look like the little boy in the movie "Jerry McGuire." I always thought that little boy was precious, and I'm sure Gage will look even cuter! So, that's the news! I've added new pics, too.



Love and Hugs,


Brooke

November 14, 2001
Gage had his appointment with the lung doctor on Monday, and he's OFF oxygen!! YAY!! We're loving our newfound freedom to roam around the house! Gage has officially moved into his nursery. He still wears his heart monitor and pulse ox for now, but we may be rid of those by next month if all goes well! Also, wanted to let you all know that Gage's Page has been remodeled...in case you didn't notice! It's still got all the same links, photos, and pages, and even some new ones! I've added the "Imagine" poem I wrote for Gage. Anyway, just wanted to let you all know what's going on in our world! Thanks for checking in!



Love and Hugs,


Brooke

December 8, 2001
Well, we had our appointment with the pediatric ophthalmologist....and Gage now has glasses! His right eye is fine, but his left eye has "3 units of nearsightedness." The doctor said that that the difference between the two eyes would cause the left eye to be lazy. He's not sure if the glasses will correct the problem or if Gage will always need glasses, but we're hoping they'll help him out! He looks so cute!  They were the smallest ones they had, and they're still too big! But hopefully they'll fit a little better soon! To see his pic in his new glasses, head to the "photos" page. He also had his appointment with the pediatrician...and we got some not-so-good news. Gage has only gained 5 ounces in 3 weeks, and a total of 7 ounces for the month of November. He is weighing 10 lbs., 3 oz now. He just doesn't seem interested in eating. Sometimes, he'll only eat 1 ounce at a time. It's so tough to try to feed a kid that doesn't want to eat! We recorded everything Gage ate for a week and sent it to his doctor. I guess we'll see what she says at our next visit. But, that's all the news for now. I hope you all have a wonderful holiday!



Love and Hugs,


Brooke

January 17, 2002
Time for another update...I've been getting complaints again!! Gage is doing well. Since my last update, Gage was sent to a pediatric gastroenterologist for his disappointing weight gain. She put him on a drug called Periactin which acts as an appetite enhancer. This has seemed to help a lot! They also added Polycose powder to his diet (which is the same med they gave him in the NICU for weight gain...it's just carbohydrates and sugar for added calories). So, now Gage is weighing 12 lbs, 3 oz. The doctors seem satisfied with his weight gain now, if he can manage to maintain it. We were also referred to ECI (Early Childhood Intervention) to work on Gage's weight gain and nutrition. He sees a nutritionist once a month, an occupational therapist twice a month, and his case worker comes twice a month for added therapy. The occupational therapist is working with Gage on strengthening his suck, learning to eat from a spoon, rolling over, sitting up, and his developing gross and fine motor skills. Overall, he is not behind in any areas according to his adjusted age of 4 1/2 mos at the time of screening. He measured at 4 mos. in his motor and language skills, but he measured 5 mos in his adaptive skills, 6 mos. in his cognitive skills, and 7 mos. in his personal/social skills. But, since ECI can't adjust his age more than 2 mos (stupid technicality!), they consider him to be 6 mos. SO, his actual age was 8 mos, his ECI adjusted age was 6 mos, and his actual adjusted age was 4 1/2 mos.  Confusing, huh? But, what matters is that he's not technically behind! And in most areas, he's even a little ahead! Gage got his first ear infection this week. It's sad because it got really bad before I ever knew. I didn't know until he had pus (sorry!) coming out of his ear.  This is because he had already been diagnosed with a cold, so I attributed the runny nose and low-grade fever to the cold. Plus, he never once pulled or rubbed his ear! He's so tough! AND, he was still in a very cheerful mood! What a trooper! So, now we're on antibiotics, and ear drops, and Gage is doing great. I wanted to let you all know that I still haven't gotten  two rolls of film developed, so I don't have any new pictures posted. BUT, I did want to let you know that I am restructuring Gage's photo pages so they may not work correctly for awhile until I get it all straightened out! Hope you all had a wonderful holiday! Thanks for keeping up with our little man!



Love and Hugs,


Brooke

February 26, 2002
Well, I've finally updated! You all have probably given up on me by now! Gage is doing good. His last weight was 13 lbs., 10 oz on Friday.  We are starting to try and add more cereal to his diet to replace bottles (or in addition to!). The cereal helps to control reflux, which is pretty bad these days. Without meds, he throws up his bottles, and we still have a hard time feeding him because of the pain associated with reflux. He is still trying to get used to having something thicker in his mouth, and it's so funny to watch him eat. We spice up his cereal with cinnamon or nutmeg to make it taste better and mix it with high-calorie formula to squeeze in as many calories as we can. We've gotten clearance from the lung doctor to travel by airplane, so Gage will be making his first flight the last week of March to go see his Mimi in Illinois. We're so excited! Gage had an eye appointment yesterday. He has what is called strabismus (aka esotropia, or "lazy eye"). Esotropia is when one eye is turned in, in relation to the other. So, now Gage has to wear an adhesive patch over his right eye (the good one) for 4 hrs. a day in order to strengthen the weak one (the left one, which is very nearsighted.) His doctor also seems to think that this will require another eye surgery. Unlike the last surgery, this one will not be a laser surgery, it will be incisional.  It usually involves both eyes. They either tighten or weaken the muscles in the eye to balance the forces and allow the eyes to be straighter, and HOPEFULLY, work together. WHEW! That was a mouthful! Anyway, we go back in 6 wks, and we'll go from there! SO, that's all the news for now, other than that I've posted NEW PICTURES. Love to you all!



Love and Hugs,


Brooke

March 18, 2002
This might be a long one so bear with me! Last Thursday (March 7) Gage had an appointment with his pediatrician, but had only gained 4 oz. in two weeks (13 lbs, 12 oz up from 13 lbs, 8 oz). She said she wanted to speak with Gage's GI to determine what needed to be done. The next day, Friday March 8, she calls to let me know that she talked to the GI, and they together decided that Gage should probably have a g-tube placed ( a tube that is surgically inserted directly into the stomach through the abdomen) for supplemental feedings because he isn't gaining weight as he should. On the preemie growth chart, Gage is still only in the 3rd percentile for both weight and height, and he doesn't even register on the regular growth chart. I was a little leery of this decision. I have no problem with a g-tube if it is in fact what Gage NEEDS. But what I'm more concerned with, is WHY is he not eating? I wanted to establish that before making any decisions. If we discover why he's not eating, and then determine that he needs the tube, then that's fine. I want to do what will benefit him most. So, I requested a couple of tests, one being a "Swallow Function Scan" to determine if Gage might have a swallow dysfunction. This was performed Friday, March 15. It was determined that Gage tends to aspirate thin liquids (liquid goes into the windpipe, which can cause upper respiratory infections and even pneumonia). So, we put him on Enfamil A.R. (Added Rice) which is a thicker formula to help control the reflux and aspiration. No swallow dysfunction was found. I also requested an Upper GI, which will be scheduled later on. Today, (Monday) we had a consultation with the Pediatric Surgeon that we were referred to for possible g-tube placement. I told him that Gage does well on solids such as cereal, baby food, and yogurt, and that the only problem we seem to have is with the bottle. He just won't increase his volume from 3 oz. every 3 hrs. I wondered if we might be able to concentrate more on solids, and only give him formula when he wants it (about 4 bottles a day). The surgeon agreed that more testing needed to be done to determine WHY Gage will not increase his liquid intake...(reflux, a small stomach, or a stomach that empties too slowly causing a "full" sensation).  He agreed that a g-tube did not seem necessary, and that Gage's problem may just simply be that he is a preemie (they tend to grow slowly, and be small the first few years.)  So this is VERY good news! I felt Gage was doing fine...it's hard and slow, but we ARE growing! He started solids last week. Matt and I make homemade baby food which Gage LOVES! We make bananas, apples, carrots, squash, zucchini and even roast beef! It's a fun family activity, and it's good and healthy for Gage! Gage is progressing very well. He got his two bottom teeth last week! He is sitting unassisted, and doing the army crawl!  He's trying to get on his hands and knees for a few seconds, but hasn't figured out how to move from that position yet! He's getting so big! I can't believe my baby is going to be ONE YEAR OLD in a little over a month! It's gone by so fast!  OH! We also stopped by the NICU for a visit today (since we were there for our appt). It was our first time back since Gage went home. We got to see Candi, one of Gage's primary nurses. She was so excited and said she'd have to brag to his other two primary nurses, Dottie and Bridgitte. She took ours and his picture to put on the wall, and played with Gage for awhile. I've been dreading going back there, but it wasn't nearly as bad as I thought it would be (considering I was HOLDING my child instead of looking at him through a plastic wall!) Anyway, that's all that is going on in our world! 



Love and Hugs to you all!


Brooke

April 4, 2002
Not much news these days...we'll consider that a good thing. Gage got his last synagis (RSV) shot on Tuesday...yay! The pulmonologist said his lungs sound great, and he seems to be progressing well. He gained almost a pound in a little less than a month, weighing 14 lbs, 8 oz. I was so happy to hear that! We've really been pushing solids (homemade baby food) with a tbsp. of margarine in everything (which adds an extra 100 calories!). It's paying off and we've managed to end discussions of a g-tube! Tuesday, his ECI therapist came to the house and said that Gage should be crawling in 2-3 weeks...or at least by his birthday! He's getting so big...and it looks kind of funny to see such a tiny boy doing such big things! We had additional eye testing today at the Retina Foundation. They told me that Gage's vision is 20/150 in the left eye, and 20/75 in the right eye. This was mostly for research, but at least we have a better idea of exactly what Gage's vision is. I put new pictures that we had made of the kids at Spring Break. They turned out so cute, so please stop and take a look! We're getting excited planning for Gage's 1st birthday party! It's been a long year! Thanks for following our little man for so long!



Love and Hugs,


Brooke

May 2, 2002
WOW!! Has it been a whole year already? I'll start with the facts on Gage. He weighs 15 lbs, 2 oz and is about 26 inches long. He is pulling up on furniture, and even beginning to "cruise" a bit! His personality comes out more everyday, and he is such a social bug! He's still doing the army crawl...it's much faster than hands and knees, and he's now eating crackers and "Veggie Sticks." He's growing like a weed. It's already been an emotional day. My dear "cyber friends" at the August 2001 Playgroup (Gage's original due date) wrote their fondest memories of Gage today, and it left me in tears...happy tears of course! K'Lyn and Hailee called this morning to wish Gage a happy birthday, and that too, touched my heart. I am flooded with memories on this very special day. I look back with both relief and joy... relief that we've made it this far, and that hopefully the worst is over; and joy that I've been so blessed with the most precious, gorgeous son a mother could ask for. I thank the Lord that he has done so well, and been so brave.  Gage has given me more than I could've ever imagined. He has made me even more certain in the power of prayer and miracles. He's given me faith, that even when times are hard we must go on. He's shown me how much a positive attitude can do, and that a smile goes a thousand  miles. This whole experience is etched in my heart, but the lines are not so deep any longer. I will never forget what we have been through, but I feel confidant that bigger and brighter things await us every day. I want to thank each and every one of my family members and friends for your prayers, support, and friendship. You have made this past year bearable, and even enjoyable! We couldn't have done it without you and we love you all!

P.S.  No new pictures just yet.  I will try to post them by this weekend and send out a notice!



Love and Hugs,


Brooke


May 22, 2002
Time for an update! Gage's 1st birthday party was so much fun! He had a blast, and ate an entire piece of Aunt Sharon's cake! He had blue icing all over! Pictures are being developed, and will be posted soon. Gage has finally cut another tooth. It's on his top right. His last weight was 15 lbs, 12 oz. His nutritionist comes out today to weigh him and monitor his diet, so we'll have a new weight for you soon. Not sure if I mentioned this in updates, but my doctors thought they had found a blood disorder that caused me to get such severe, early onset pre-eclampsia. I had to see a hematologist to have more tests run. I got my results on Monday, and they were all normal, showing no blood disorder at this point. They will continue to research my hospital records and lab tests, and run even more tests if need be. The benefit of finding the source of the pre-eclampsia is that if the cause is known, there is a treatment to prevent it from happening in any future pregnancies. If no disorder is found, there is no treatment to keep it from reoccuring. So, I am hoping a cause is found. I don't care to do it this way again. The OUTCOME was good, but I might not always be so lucky! So, the search goes on. Gage is doing great....growing every day. Matt swears Gage says "Mama," but I'm not so sure! I guess time will tell. We'll be heading to the lake house for this Memorial Day weekend. Hope everyone has a wonderful holiday! 



Love and Hugs,


Brooke

July 24, 2002
 Wow, I have REALLY been slacking with this site lately (BAD mommy!). Well, I have a new problem now. My scanner doesn't work with my new computer...so I'm going to have to find a new way to get pics on here. Anyone wanna make a donation for a new scanner? LOL!! Anyway, even though I have no new pictures to show, I figured I'd better update everyone on Gage. He is doing so GREAT!! He has four teeth now (two on top, two on bottom) and he has the cutest smile I've ever seen! He is the BIGGEST flirt. He's very easy-going and will let just about anyone hold him. He flashes his smile at everyone he sees and then ducks his head into my shoulder, and then he looks up and smiles again.  It's his own little game. He also loves to play peek-a-boo as well...and he and Daddy are enjoying each other more and more every day. It's so cute to see them play together. He has finally learned how to crawl like a "big boy" on all fours. I thought he'd never stop the army crawl. He still does it when he's in a hurry, but at least he KNOWS how to do it the right way. Gage is so busy these days. He's crawling like mad, pulling up, cruising, and standing independently for up to 10 seconds. He walks with ease if you hold both hands, and is getting pretty good at just holding on to one! His physical therapist thinks he may be taking a couple of steps independently by next month. It's so funny because he is only a little over 26 in. tall and he is still so bald! It looks like a little infant walking around! He has mastered most of his toys and entertains himself so well! I could watch him play for hours on end. They have discontinued his nutrition services with ECI, because he eats such a variety of foods, and is gaining weight pretty consistently (he's a little over 17 lbs now). It's slow going, but at least it's going! He'll eat anything you put in front of him! His favorite right now is cheese. He's drinking from a sippy cup, but still likes a bottle about 3 times a day. He's also finally grown into his high chair...he doesn't have to sit on a pillow anymore. He says "mama" and "no" at times. He'll even shake his head and say no! (but he says it very nicely!) Gage loves to go to the lake (Possum Kingdom) and stay at the lake house. We take the boat over to Sandy Beach where he plays in the sand and water. He looks so cute in his little "doorag" and sunglasses. He's quite the ladies man! K'Lyn and Hailee are here for the next couple of weeks, and he is really enjoying having them here. He loves them so much, and they have such a good time playing together. I feel so lucky to have such a beautiful family. I hope everyone is enjoying their summer. I will post pics as soon as I have a way to do so! Love to you all!



Love and Hugs,


Brooke

August 20, 2002
Time for another update on our little man! Gage is doing so great. I'm so excited! First of all, NO MORE ECI (Early Childhood Intervention)!!!! First, they released him from his nutrition services because he is gaining weight fairly consistently. Then, last week they discontinued his Physical Therapy!! Technically, Gage would be turning one tomorrow had he been born on time. So that means he should be a 12 mo. old developmentally, but Gage is at 13.5 mos. developmentally!! How great is that?! We've worked hard for it and definitely won't stop now. Gage also had a pulmonologist (lung doc.) appointment last week. He said Gage's lungs are clear as a bell (and we don't even use Flovent, Serevent, or albuterol anymore!!) Gage will start getting the Synagis shot next month to help protect him from RSV. (YAY!!) He gets one shot every month through April. We saw his pediatrician today and she too is amazed at Gage's progress. (I just love to hear people brag on him!!) She's thrilled that we made it through the first year with only one minor cold and one ear infection (me too!)  He weighs 17 lbs, 6 oz and is 28 in. long. We only have one problem right now. The arm that Gage had the staph infection in will not straighten. I have an appt with the orthopaedic surgeon in September to find out what's going on with that. Anyway, Gage isn't walking yet, but he is SOOOO close!! He WANTS to so bad, but he just isn't quite there yet! I FINALLY posted his birthday party pics and some pics from the summer. Feel free to sign the guestbook and let us know what you think!



Love and Hugs,


Brooke

September 30, 2002
Time for another update!  Gage is getting so big! He now has 6 teeth...4 on top and two on bottom. He says at least 5 recognizable words now (mama, daddy, night-night, bye-bye, and last but not least...NO!) He is taking anywhere from 3-15 steps on his own. He wants to walk so badly! He gets really frustrated sometimes when he falls. Gage has been going to The Great Escape. It's physical education and occupational therapy combined. It helps to make him stronger and more coordinated, as well as stimulating the brain and learning processes. It's in a "jungle" setting. We saw the orthopaedic surgeon a couple of weeks ago, and he said that Gage's arm has a mild deformity from the staph infection he had in the NICU. Apparently, the infection settled in the growth lines and is causing some abnormal growth. He said Gage seems to use the arm just fine and doesn't see any need to correct the problem right now. We may have to have it fixed when he's older, but it may also turn out just fine. He said "Let's put it this way, he'll never be a left-handed quarterback." Ha ha! It's just a "watch and wait" situation, so we'll have x-rays about every six months. We celebrated Gage's great-grandparents 50th Wedding Anniversary on September 21 (even though their anniversary isn't until October!). Gage got to see almost his entire family in one weekend since just about everyone lives in Pampa, and everyone else came for the party! He loved on his baby cousins, aunts, uncles, grandparents, sisters, and anyone else who wanted some love. It took its toll though. He was a tired boy! His Aunt Kelci took some cute pictures so we'll post those as soon as she gets them to us (it should be soon...she was pretty excited!) I hope everyone is doing great!



Love and Hugs,


Brooke

November 13, 2002
Sorry it's been so long since I've updated you all on Gage's progress. He keeps me plenty busy these days! He now has 8 teeth...6 on top (including first year molars!) and a lonely 2 on bottom. He is talking up a storm! It seems like he adds a new word every day! And he repeats just about anything mommy says. And for the biggest news yet, Gage started walking in mid-October!! He's all over the place and loving it! He weighs 18 lbs and 9 oz. and is 29 1/4 in long. He still has a tiny head at only 17 3/4 in. Gage had a great time on Halloween. He was a lion, big sister K'Lyn was a 50's girl, and big sister Hailee was Snow White. They all looked adorable, and I will have pictures to post as soon as I get them developed! On a more serious note, Gage was finally circumcised yesterday. We were advised to wait until his lungs were more stable. So, it went as well as can be expected I assume. It's honestly pretty horrible, but he was put under general anesthesia and also given a penile block that lasted about 4 hours after we got home from the hospital. He is on Tylenol with Codeine and that seems to be helping, but I know he's in pain. He is so dang tough that you would never know, but because he rarely shows ANY signs of pain, the squirming and faint whining give it away this time. I feel so sorry for him and have found myself in tears a few times. But, it needed to be done (I guess) and we didn't want to wait until he got any older. And my final piece of news is that we are buying our first house! Or should I say building our first house?! We are building a brand new home near the Texas Motor Speedway...but far enough away to avoid the noise! It should be finished by the last week of December or the first week of January. We are very excited! Turns out, it will cost us less per month than the house we are renting! Well, I hope everyone has a wonderful Thansgiving holiday! Thanks for checking in on us!



Love and Hugs,


Brooke

January 9, 2003
I hope everyone enjoyed the holidays! I know we sure did. We spent Thanksgiving in Pampa at Grandma and Granddad Moler's house. Gage LOVED the stuffing and the fudge! Christmas was crazy, going from one house to another with our VERY large extended family. Gage and I went back to Pampa for my dad's wedding and to see my mom, stepdad and siblings from Illinois. A snowstorm came in and Gage and I, along with K'Lyn, Hailee, and their cousin Stephanie followed MawMaw and PawPaw King and Aunt Nenny back to Dallas to spend Christmas with Daddy, Aunt Sharon and Tiffany. Then, we headed back to Pampa to spend more time with my mom and family from Illinois before they left. We had a great time, stopping in to see Granny and Poppa Petty and spending a bit of time with Nanny and PawPaw Hedrick as well. Whew! I'm tired all over agin, just remembering it all! As for Gage, he now has 10 teeth (6 on top, 4 on bottom). He's trying to cut his first year molars on bottom and then he'll be up to 12. He now says about 15 words, including "mama, daddy, night night, no no, bye-bye, cheese, cookie, yeah, hello (pronounced hell-ah!), hi, Gage, key, bible, juice and ball." I'm sure there are others, but it's hard to keep track these days! I'm not sure of his exact weight, but he's over 19 lbs, but under 20. He had an eye evaluation uner anesthesia yesterday at Children's Medical Center in Dallas. He won't cooperate for a thorough exam anymore and his other tests were showing that his eyesight might have been getting worse. The doctor wanted to be sure that there were no serious problems, and find out exactly what his eyesight is. He didn't find any problems, although Gage's eyesight had changed a bit, but not as dramatically as we first thought. So, he will be getting new glasses in a couple of weeks. Gage is VERY mobile these days! He's walking, even running at times! He loves to scatter toys, clothes and pretty much anything else all over the house...needless to say it's not nearly as easy to keep a clean house anymore! Speaking of houses, we're expecting to close on the new house on or around January 31. Only a few more weeks! We're very excited and are getting ready to start packing this weekend. Well, that's all the news around here for now! 



Love and Hugs,


Brooke


July 23, 2003
Wow, well of all the times I've claimed to have been slacking on this website, I think this time would have to take the crown! It's been since January!! I will try to start from there. Gage, Matt and I moved into our new house Jan. 31, 2003 and we love it. We spent lots of time painting and getting settled in, but it looks great now. Gage is growing up so fast! In April, we had a "Preemie Get Together" in Houston with some other preemie moms I've met over the internet. I know, it sounds nuts, but these women have been great support for me over the past two years and we all felt it was time to meet in person. So we did. We went to a "farm" in Houston and had lunch, played, pet the animals and had a great time! Gage also got to ride a pony! He didn't know what to think at first, but then he didn't want to get down! He looked so big up there! Gage had his second birthday May 2, 2003 and we celebrated by having TWO separate birthday parties. We had one in Pampa, TX where most of our families still live and one here at our home for the rest of our family and close friends. Since Gage loves to color, we had  Crayola themed birthday parties. We covered the tables with large sheets of white paper and let the kids (and grown ups!) go wild. Gage had a blast and got tons of great gifts. He especially loves his new swingset and sandbox. I can hardly keep him inside anymore!  We also have a community pool and he LOVES the water. He will blow bubbles in the water and even go UNDER water with mommy. He's learning to kick and he's obviously figured out how to hold his breath! What a little fish! Our doctor's appointments are getting fewer and further between so things are settling down quite a bit in that area. He still has to go to the orthopaedic surgeon every six months to monitor the growth of the bones in his left arm, but so far so good. We go back in September for another check up. Gage got his new glasses and we've "officially" been released from any patching! He doesn't have to go back until next JUNE!! He had a lung appointment a couple of weeks ago where he weighed 22 and a half pounds and was 31 and a half inches long. The pulmonologist said his weight gain and growth looked great and his lungs sounded great too. So, he didn't want to see us for a year as well, but decided to see us at 6 months during cold/flu season.  So we go back in January. So far...so good!! Oh, Gage also got a new puppy in April. He is an AKC registered silver miniature schnauzer that we named Bentley. Gage has a blast with him. They take turns chasing each other and Gage loves to make Bentley fetch. Bentley loves to play in the sandbox with Gage too and Gage thinks it's hilarious when Bentley throws sand everywhere. Gage is talking so much these days. He loves to say "What's up?!" and just about anything else he hears. He says "I love you" which sounds more like "love-uh." He also says sleep tight in addition to night night.  He tells us to "stop it" and he can also say Bentley's name "Bent-y". He will repeat just about anything these days! It's so fun to watch him learning. Anyway, we also went to Colorado for a week in June.  We went to the Cabot Ranch with my parents and had a great time. Gage got to ride a pony again on two separate days and I thought we'd never get him off without having a major melt down (we're also in that lovely tantrum phase!). But he got over it and we got some great video and pictures. I will try to get those posted sometime. But, in the meantime, I've got pictures from Gage's party, the get together, his puppy and some other stuff too. So feel free to check it! I've also added Gage's newest "professional" pictures taken by his aunt Kelci. They are the pictures where he's wearing a white hawaiian print shirt. Hopefully now that I'm caught up on the site again, I will do better about updating it! Hope you're all having a great summer!



Love and Hugs,


Brooke

February 21, 2004
Well, I guess I shouldn't have created a whole separate page for this year! It seems I have really been falling down on the job. Actually, my computer that I'm able to edit Gage's site on is broken! So, since I'm in Pampa I'm using my grandparents computer to update you all on Gage's progress these days. Now the question is "Where do I start?" Well, Gage is now 33 mos. old (will be 3 in May). In September, I began working at our church preschool 3 days a week. So, Gage gets to go to the preschool too. He has a great time and has become really attached to his teacher Audrey. He asks for her every day! But he really enjoys preschool and I think it's been good for him to be around other kids his age, and evidently it's doing him some good! Because he is almost 3, I thought it was time for Gage to be re-evaluated by ECI. I did this because when ECI kids turn 3, they are turned over to the school district for any further therapy and I needed to know if Gage was going to need to be enrolled in the PPCD (Preschool Program for Children with Disabilities) at Northwest ISD. So, this past Monday Gage was re-evaluated by a physical therapist and a speech therapist to determine whether he has fallen behind in these past two years without ECI therapy. And the news was great! He is right on target and even ahead in some areas! I wish I could post some new pictures! We've gotten some really good ones. We had "Fall Harvest" and "Rodeo Day" at preschool so Gage got to dress up. Plus, Dallas got a few inches of snow last weekend so Gage got to play in the snow for the first time! So, hopefully I can get Matt to get my new computer connected to our DSL, and we should be good to go. Hopefully that will help me get back on track with updating the site (complete with pictures!). Gage has also been a little sickly lately. He had been coughing for about two weeks even after taking several medications. Finally, the doctor felt like he needed to be seen so we went to the pulmonologist (lung specialist). Gage had atelectasis (partial lung collapse) and an ear infection.  After being put on albuterol treatments, Atrovent, inhaled steroids, oral steroids, an antibiotic and a cough syrup, Gage has finally managed to get well. Anyway, that's all the news for now.



Love and Hugs,


Brooke